Budget hawks at the Texas Legislature should be taking a close look at the state prison system this year. Without
significant policy changes
to take some of the stress off of the agency and its employees, the system is on the verge of crisis along several axes.
As the Texas Senate Finance Committee prepares to hear testimony today on the Texas Department of Criminal Justice's budget request, the
Houston Chronicle's Keri Blakinger reported
over the weekend that understaffing at several rural prison units is reaching crisis levels, with system-wide turnover approaching 30 percent. Overtime last year cost $80 million, the most ever spent, and overtime hours were nearly triple 2012 levels.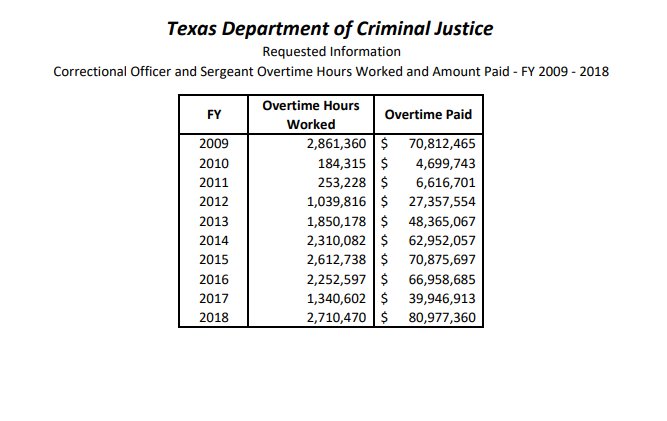 TDCJ is asking the Lege to solve the problems by raising salaries by $156 million. And salaries should be higher. But that wouldn't cause staff to magically appear in Kenedy or Hartley Counties, for example. There just aren't enough people there to entice with dangerous, low paying work. And if you're willing to move, there is dangerous, high paying work to be had in the oil fields. It's not hard to see why folks leave rural prison jobs as soon as they can find something else.
Grits has been harping on understaffing at rural units for years, and consider those prime candidates for closure. It's
pretty easy to envision
sentencing reduction packages for low-level drug offenses and probation reforms to reduce revocations that would let the Lege close several of these far-flung, understaffed units. I'm hoping we see some of those filed this session.
These days, lots of people want to reduce mass incarceration simply because it's the right thing to do, and your correspondent counts himself on that list. But even for policymakers who lack that predilection, there are strong arguments for reducing the size of Texas' prison system based in pragmatism and fiscal conservatism.
Guard understaffing is just one reason the Lege might want to reduce prison populations. Others are, in no particular order:
Prison healthcare costs are skyrocketing: TDCJ says it needs $247 million to continue providing current levels of services. The draft Senate budget reduces prison healthcare by $1.3 million, while the House budget only gave them $160 million of what they need. Reduce the number of prisoners, reduce medical expenses.
Maintenance costs rising: TDCJ has asked for $146 million in new maintenance spending this biennium. They're going to ask for another nine-figure maintenance bump next biennium, as well. Some units should be closed instead of repaired.
A/C litigation may be tip of an iceberg: TDCJ agreed to install air conditioning at the Wallace Pack unit after federal litigation. But the standards the court set for heat sensitive inmates there are violated at other units, and it's likely the agency will be required to air condition more if not all units if other, related litigation succeeds. Reducing inmate populations before that happened would lessen the impact. (Ironically, paying for A/C would go a long way toward boosting staff retention.)
Prisons are not hospitals: Many addicts and mentally-ill people should not be there. (I realize expanding Medicaid in Texas is a non-starter given the current statewide leadership, but that's the best public-safety strategy for dealing with those populations.) That observation leads us to ...
Penalty reductions could free up money for treatment: Presently, treatment dollars are scarce and waiting lists for substance-abuse treatment are long. Reducing user-level drug possession to a Class A misdemeanor would free up nearly $200 million per biennium. A budget rider could designate that all savings certified from the change be spent on drug treatment.
Crime has been declining for a long time now, but Texas prisons remain full. That can change - we can reduce incarceration without reducing public safety - but it will require viewing the question through a policy lens, not just a budgetary one. Throwing more money at prisons without addressing policies that keep the prisons full will just kick the can down the road. Eventually, the Legislature must reduce incarceration. It would be better if they did so before understaffing flowers into a full-blown public safety crisis at remote, rural units that gets people killed.