Here are a few odds and ends that merit Grits readers' attention:
License renewals from abolished driver surcharges may exacerbate lines at DPS license centers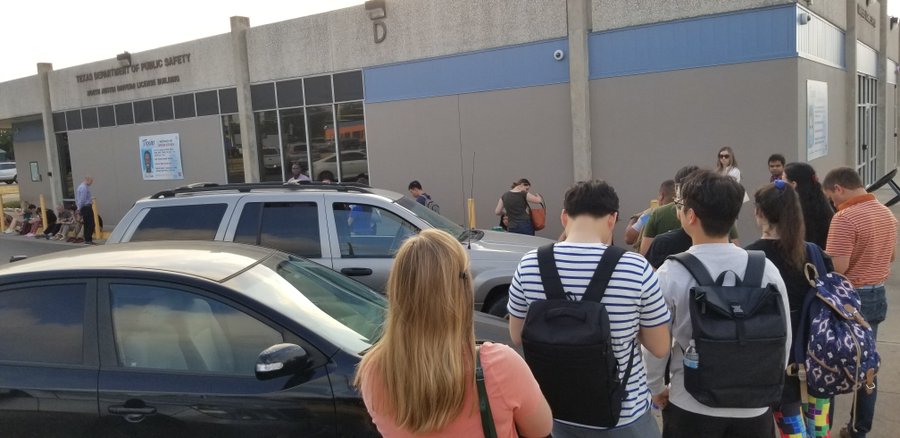 Line outside DPS license center on North Lamar
in Austin ~7:30 a.m. Friday morning
It's going to be a rough fall at the DPS license centers. The Texas Legislature gave them $200 million to staff up at some of its biggest facilities, but those new workers
won't come online for several months
. In the meantime, about one million people with suspended licenses on Monday will have had all their Driver Responsibility surcharges wiped clean and can finally renew their driver's licenses, likely significantly adding to lines.
Sheriff shot up wrong vehicle
Somebody took a shot at a state trooper in Kimble County, and he called it in. The sheriff heard the call, set up on the side of the highway with an assault rifle, and shot up a passing pickup in response, wounding the driver. It was the wrong vehicle; the trooper had called in a "gray" truck and the pickup the sheriff shot up was white. Good
piece from Eric Dexheimer
with the details.
The case for medical-led mental-health first response
Here's an excellent
case study out of Austin
showing why cops shouldn't spearhead first response to most mental health calls. The Austin City Council is presently considering whether to
shift to a medical-led response
in most instances, following the lead of a Dallas PD pilot program.
'Cooking them to death'
The Marshall Project and the Weather Channel
teamed up to report on
the effects of excessive heat in Texas prisons.
Coming soon: New Travis County public defender office
Great news: The Texas Indigent Defense Commission
approved grant funding for a new public-defender office in Travis County
.
'Arrest, release, repeat'
The Prison Policy Institute came out with a
new analysis
discussing "How police and jails are misused to respond to social problems."
Feds failing at collecting police use-of-force data
Since 1994, the Bureau of Justice Statistics has been charged with gathering data on police use of force. But most agencies' data is garbage and most of the information is suspect or unusable,
reported Kenny Jacoby of Gatehouse News
.