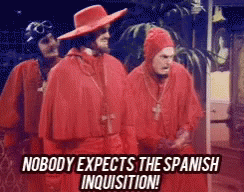 Nobody expects the Spanish Inquisition
, the actors in Monte Python insisted, and Grits must admit I didn't expect Texas judges to begin adopting torturous means to extract the answers they want from defendants before them.
In the category of "things that make you go 'Hmmmmm,'" here's the crux of an
opinion
out of the El Paso Court of Appeals
Because the trial transcript clearly shows that the trial judge, during a heated exchanged with the defendant outside the presence of the jury, ordered his bailiff to electrocute the defendant three times with a stun belt—not for legitimate security purposes, but solely as a show of the court's power as the defendant asked the court to stop "torturing" him—we harbor grave doubts as to whether Morris' trial comported with basic constitutional mandates. As such, we have no choice but to overturn Morris' conviction and remand for a new trial.
See briefs from
the appellant
and
the State
for all the lurid details, and a bevy of self-serving arguments by the Tarrant DA office which the appeals court rejected.
It remains to be seen whether the prosecution will seek review from the Court of Criminal Appeals, much less what that court might do. Grits could see a tight, 5-4 decision either way, or maybe 6-3 to uphold, just because the facts are so bad. But you never know. And depending on the outcome of the race to replace Judge Elsa Alcala, that projected vote count could change.