Grits this week revisited the 2007 "
Bromwich report
" regarding what then was the Houston PD crime lab while researching DNA-mixture evidence issues and realized something I hadn't understood at the time - or perhaps just never connected the dots: Errors calculating DNA-mixture probabilities were at the center of the years-long crisis that engulfed the Houston crime lab's DNA section for most of the aughts.
Readers will recall, in 2015, we discovered that
all Texas crime labs were miscalculating DNA-mixture probabilities
- in one case, a sample jurors were told matched one person out of a billion really matched one out of 50. Well, the same thing was happening at the Houston crime lab. Check out this chart from the Bromwich report identifying cases where DNA analysts vastly over-estimated the probability ratios: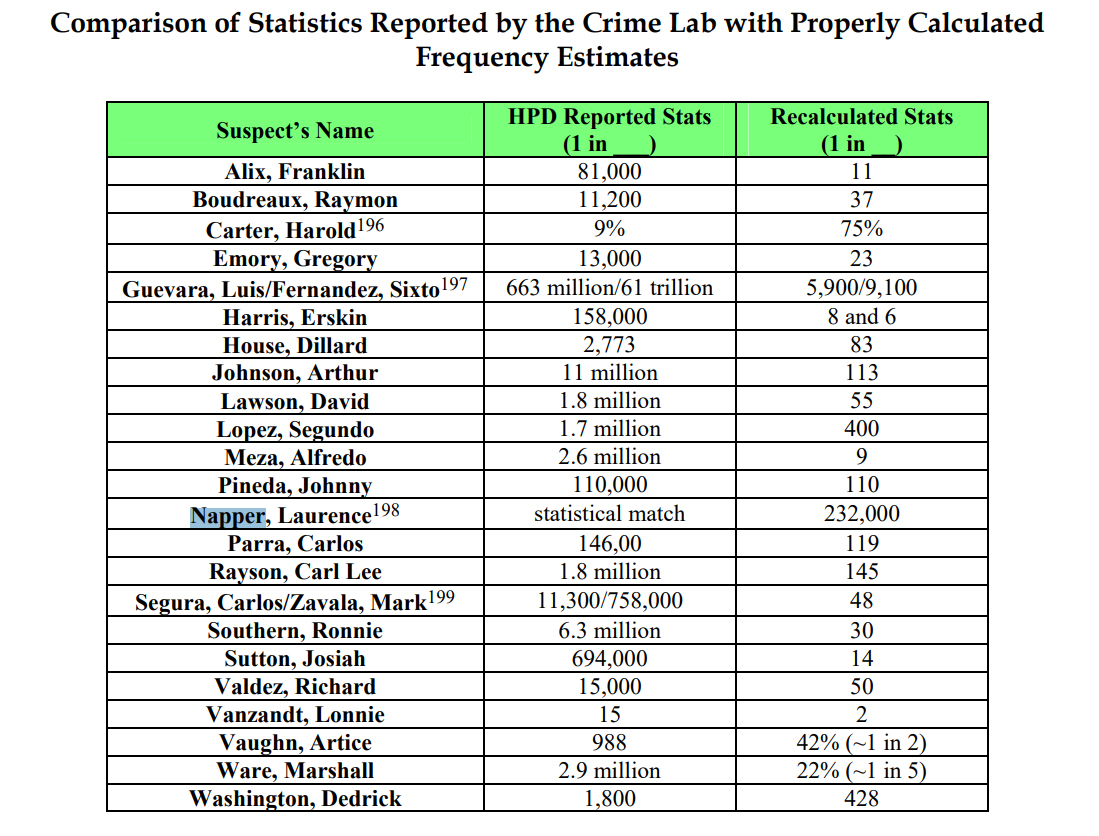 So in Houston, they discovered the crime lab was miscalculating probabilities in the aughts, updated the math, then in 2015 discovered
that
math was wrong and had to update it again. Wow! This '07 comment from Bromwich about the HPD lab
would have applied equally to every Texas crime lab
as recently as 2015:
It is clear that DNA analysts in the historical Crime Lab ... did not fully understand the scientific basis for calculating frequency estimates from DNA profiles obtained from evidence samples and that they were not trained in the methods of properly calculating statistics associated with DNA mixture profiles and partial DNA profiles.
Notably, the method Texas labs were advised to shift to in 2015 - "probabilistic genotyping," most commonly using equipment/software from a company called STR-Mix - lately has itself
come under fire
. A federal judge out of Michigan recently
excluded such evidence
in a Daubert hearing. So it's possible DNA analysts will need to re-do their math again.
Returning to the Houston PD crime lab example, these are in many cases radical downward adjustments. From one in 6.3 million to one in 30? From a one in 2.9 million chance to one in 5? Would juries have convicted if they'd heard the lower numbers? I wonder if other crime labs were using the same method as HPD's during this period?
Of the cases in this chart,
Franklin Alix was executed
despite DNA testimony in his case having been
declared unreliable
. Only Josiah Sutton was ever exonerated; 11 remain incarcerated. By all accounts, the criminal-defense bar in Houston failed to step up in many instances, leaving most of these folks
un-or-poorly represented
.
It's highly likely there are more actually-innocent people on that list, but we'll never know. The DNA lab's other big problem was that it had a leaky roof and most of the historical DNA evidence was destroyed and couldn't be re-tested.
See prior, related Grits posts: